It was a milestone kind of night for the Waverly Lady Tigers.
On Monday evening on the floor of Eastern High School, the Lady Tigers won their fourth straight Pike County Holiday Classic championship, defeating Piketon 53-37, and senior Zoiee Smith scored her 1,000th career point.
Summarizing the games that led up to the championship, the Holiday Classic tipped off Saturday night with Piketon winning 48-45 over Eastern. Then Waverly claimed a 58-41 victory over Western in the second game to conclude the first round. Those results created the matchups for the consolation and championship games on Monday evening. Prior to the championship battle between Piketon and Waverly, Eastern won the consolation game over Western 59-46.
The final score of the championship was not an indication of the closeness of the battle between Waverly and Piketon. The Lady Redstreaks stayed within striking distance until late in the third quarter, relying on their defense.
In fact, both teams relied heavily on their defense in the early going. Waverly's Paige Carter was the first to break through and score a pair of early buckets to get the offense started. Then it was Piketon's turn with Kennedy Jenkins striking first, and Bailey Vulgamore adding a bucket nearly two minutes later. Four minutes into the game, the two teams were tied at 4-4.
Smith scored to put the Lady Tigers ahead after she and Carli Knight used a double-team defense to generate a turnover. The Lady Redstreaks battled back with Vulgamore connecting on a long distance three-pointer. Then she added another basket to give Piketon the 9-6 advantage. The Lady Tigers regained their advantage with a drive and bucket from Smith followed by free throws from Carter. At the end of the quarter, Waverly was up 10-9.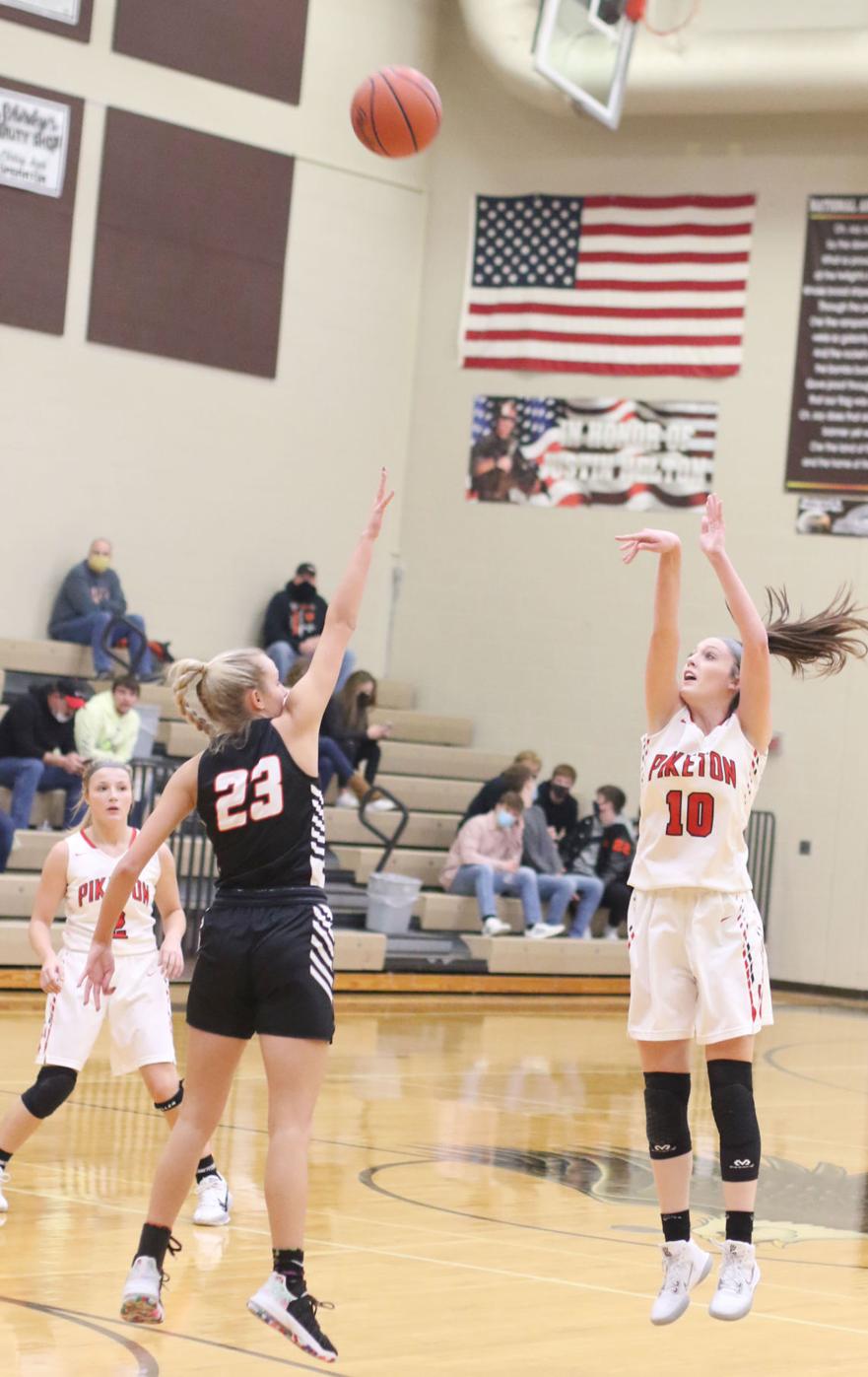 The second quarter was one of runs as Waverly tried to pull away and Piketon fought back. In the end, both put up 13 points.
Vulgamore started the scoring for PHS in the quarter before Waverly strung together a 6-0 run. Sarah Thompson hit first for the Lady Tigers. Then Carter delivered a block on defense and followed with a bucket of her own. Smith scored after the next Piketon turnover, pushing the Lady Tigers ahead 16-11.
Carter blocked another shot, but the Lady Redstreaks recovered the ball and Lamerson scored. Then Thompson scored again before Knight had a block on the defensive end. Thompson scored once more to increase the lead to 20-13, leaving the Lady Streaks facing a seven-point deficit.
With 3:30 left in the half, Piketon rallied, starting with another bucket from Lamerson. The Lady Redstreaks only allowed two Waverly shot attempts for the remainder of the quarter, both of which came from Smith, who also joined the block party late in the half by denying a Piketon shot.
The only points Waverly scored in the final three minutes came on the line with Smith hitting one and Kelli Stewart adding two. Over that same stretch, Lamerson added four points, including two from the line, and Vulgamore connected on another three-pointer. At the half, Piketon was back within one, 23-22.
Continuing their defensive battle, the two teams opened the third quarter by dueling through almost two scoreless minutes. The Lady Tigers broke through when Knight drove along the baseline and passed to the opposite corner to Michaela Rhoads, who swished a three-pointer. Smith scored the next two baskets for the Lady Tigers after Jenkins and Vulgamore each hit for Piketon. Midway through the quarter, Waverly was up 30-26.
Scoring was minimal for the rest of the frame. But the momentum was tipping toward the Lady Tigers, ending with a three-point play opportunity for Stewart, following a steal and assist from Smith. Waverly was ahead 34-28 going to the final quarter.
The fourth quarter began with a three-pointer from Ava Little. Stewart leveled another block on defense, leading to a fast break opportunity for Smith to score on a layup, which created the first double-digit lead for the Lady Tigers, 39-28. After Jenkins hit for Piketon, Smith scored again, getting herself one point away from a milestone. Then Smith delivered an assist for Knight on the next Waverly possession. Once again, Waverly's defense delivered with another turnover. Smith finally had her opportunity, sprinting ahead of the several defenders to hit on a layup and achieve the 1,000-point milestone. That made the score 45-34 with 4:46 left in the game. Play was stopped so Smith could be recognized by her teammates, Piketon players, fans and family.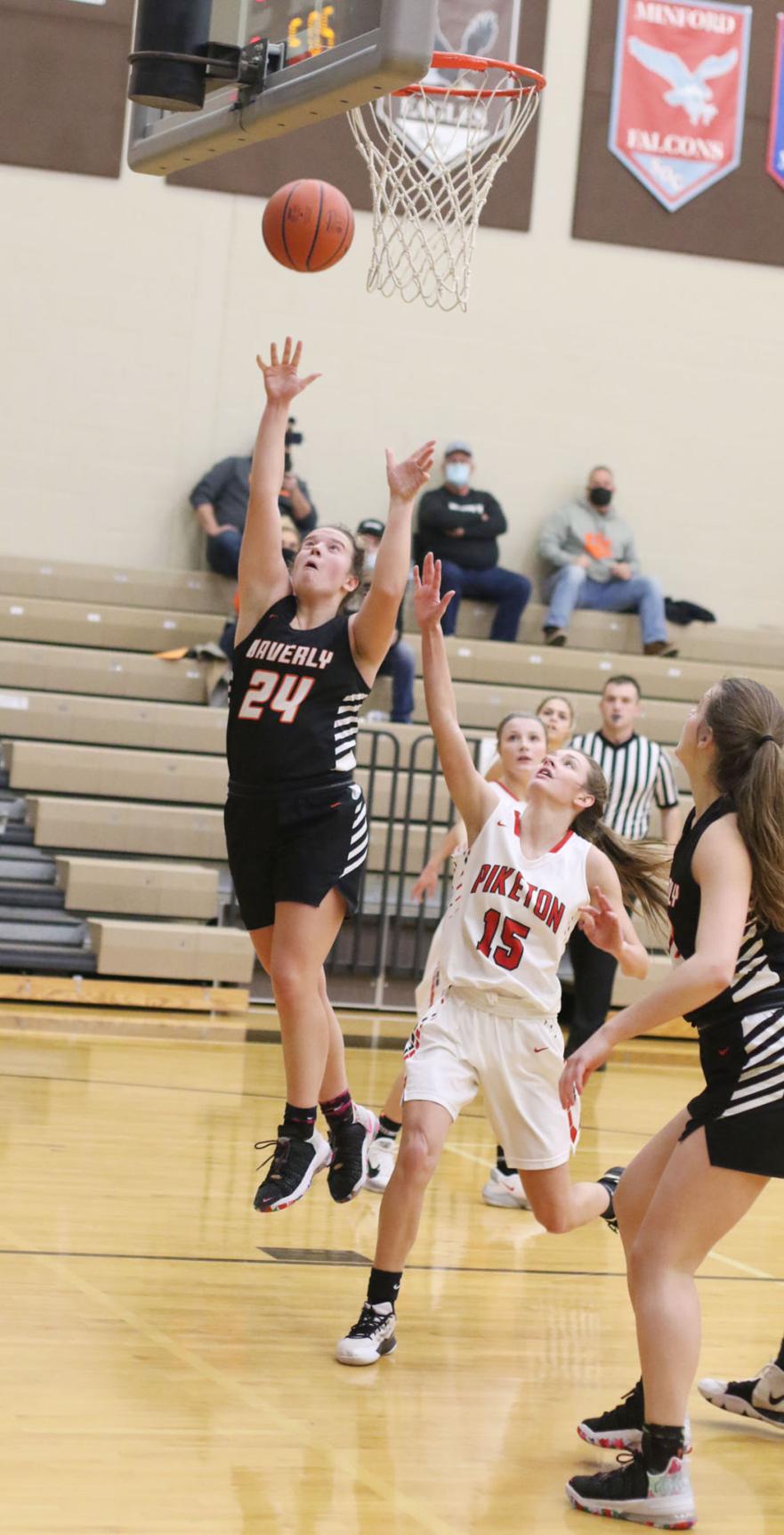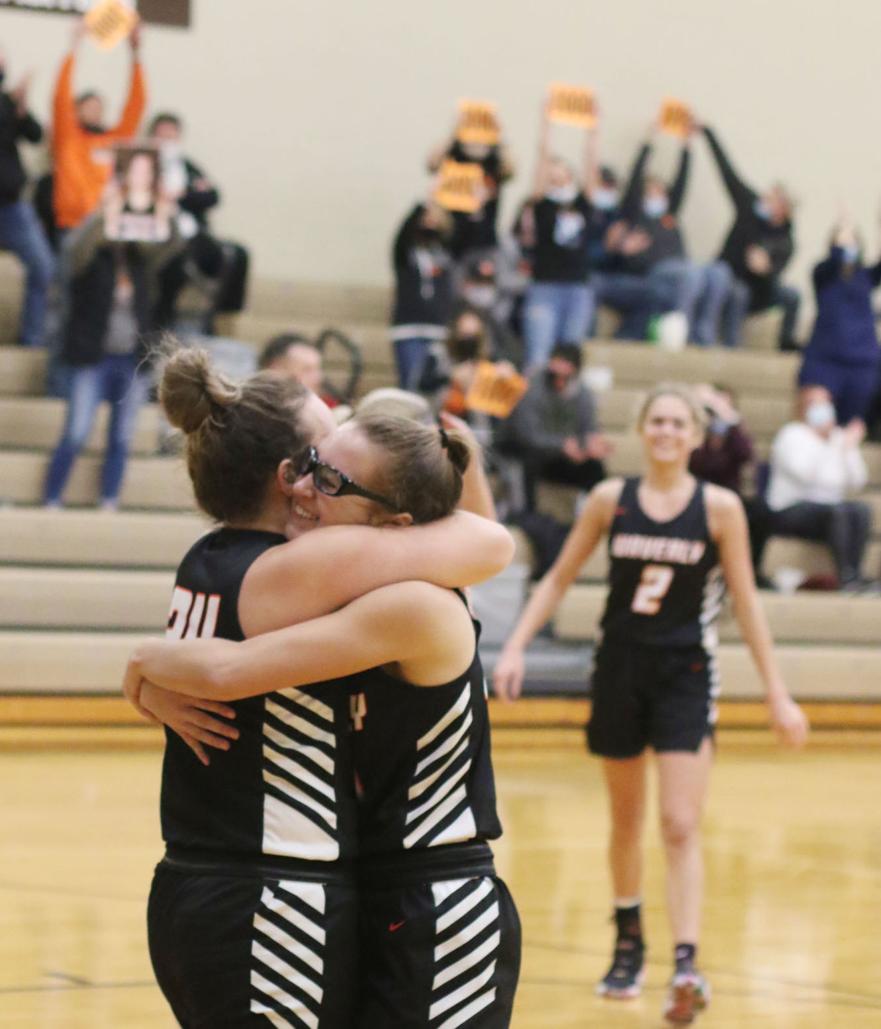 When play resumed, Smith and Knight continued where they left off, scoring six of the final eight points. Rhoads produced the other two from the line, bringing the 53-37 win to an end.
"Every year it is like this. As a coach, I've been on the other end of it (losing in the Holiday Classic). It is tough because you fight so hard. I'm sure all of the other coaches would say the same thing," said Waverly coach John Bonifield.
"It is a shame someone has to lose because you pour everything into it for 32 minutes. We've been very fortunate with our seniors. They set the tone in their freshman year and changed our whole mindset on the Holiday Classic. The group is relaxed and carefree. Nothing is too stressful for them. They changed me and how I coach. They have such energy. You just feed off the energy that Zoiee (Smith), Carli (Knight), Michaela (Rhoads) and Paige (Carter) bring. To win it four years in a row shows how great these girls are."
Bonifield added, "This was a whole team win. Sarah Thompson gave us great minutes inside. Everybody contributed. In a tight game, everyone has to do that. We weren't even sure Carli was play. Yesterday it was about 50-50. For her to give us the minutes she did tonight was amazing. Our bench was engaged and helping. Most of them are on the junior varsity team, but they are there cheering and rooting us on. They make us better — Ryane Bond, Olivia Cooper, Abbie Marshall and Morgan Crabtree — even though they don't get a lot of varsity minutes."
Coming into the championship game, Smith needed 16 points to reach 1,000. She finished her night with 19 points, eight assists, three rebounds and three steals. Paige Carter added nine points, nine rebounds and three steals. Those two Lady Tigers were the Pike County Holiday Classic All-Tournament Team selections.
Also for Waverly, Sarah Thompson provided six points and eight rebounds. Carli Knight had six points, three assists and two rebounds. Kelli Stewart provided five points and six rebounds.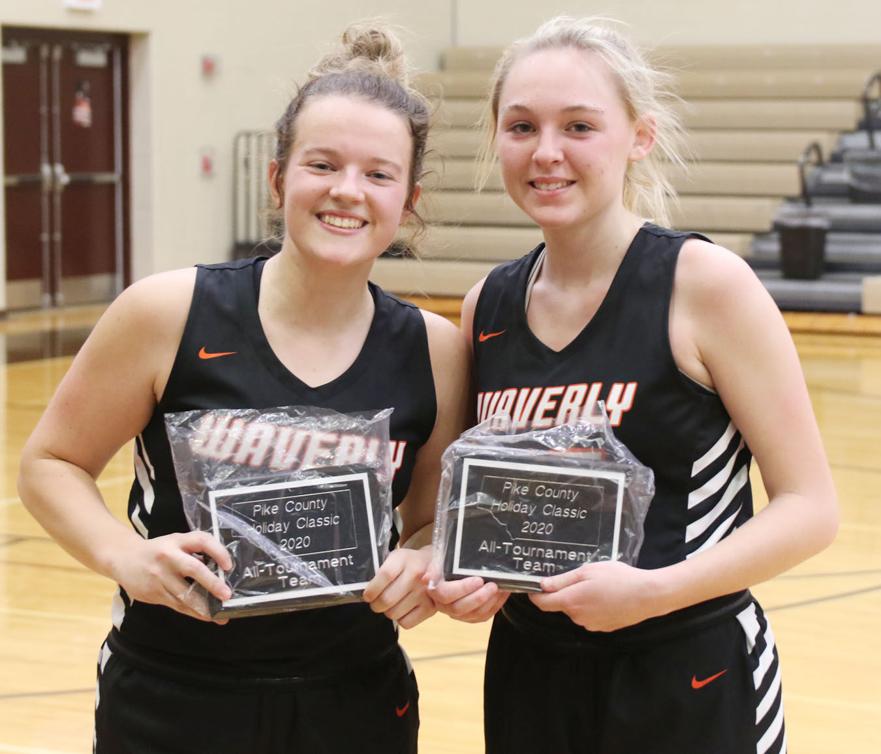 "This is a huge for us," said Smith. "No one has ever won it (Holiday Classic championship) three times in a row before, and coming in here today, I was nervous. I have never been nervous the night before a game. But I was so nervous that I couldn't sleep. I guess it was just weighted by this being such a big game and my 1,000th point being so close.
"This is huge for our school and our team. This is really the momentum swing of our season. This is something we look forward to each year and something that afterwards, we play better because of it. It is a good push for the rest of the year. I'm on cloud nine right now. I love these girls. I couldn't do this without them."
Zoiee Smith becomes the second straight 'Smith' to surpass 1,000 points as a Lady Tiger. Zoiee's cousin Laken Smith did it in 2016, sporting the number 24 on her uniform.
"The reason I am number 24 is because we have this tradition at Waverly called the senior will. Laken actually willed me 24 when she graduated because that was her number. She always pushed me to be my best, so I'm thankful to have grown up and had Laken to look up to," said Smith.
In addition, her classmates have been by her side throughout the journey.
"We have played together since we were little. I don't remember playing basketball without them (Paige Carter, Michaela Rhoads, and Carli Knight). We are thankful for every game we get to play, especially under these circumstances (Covid-19)."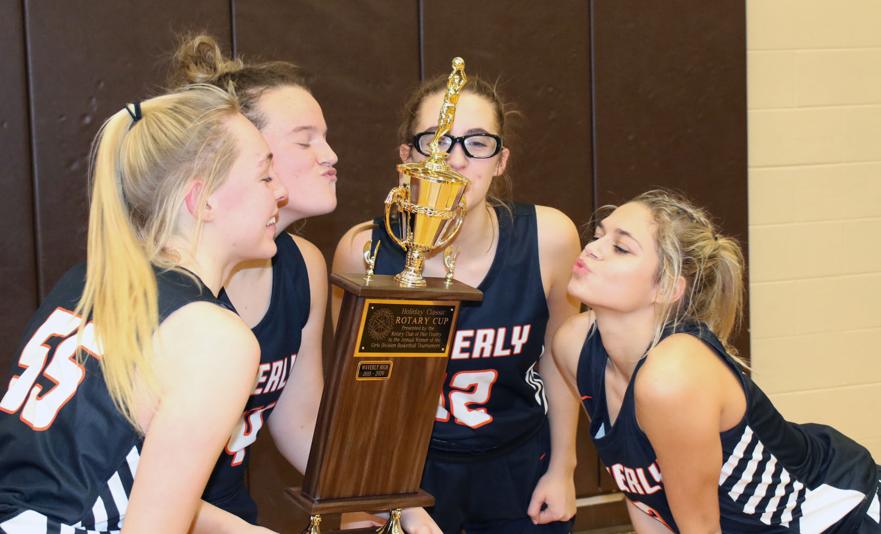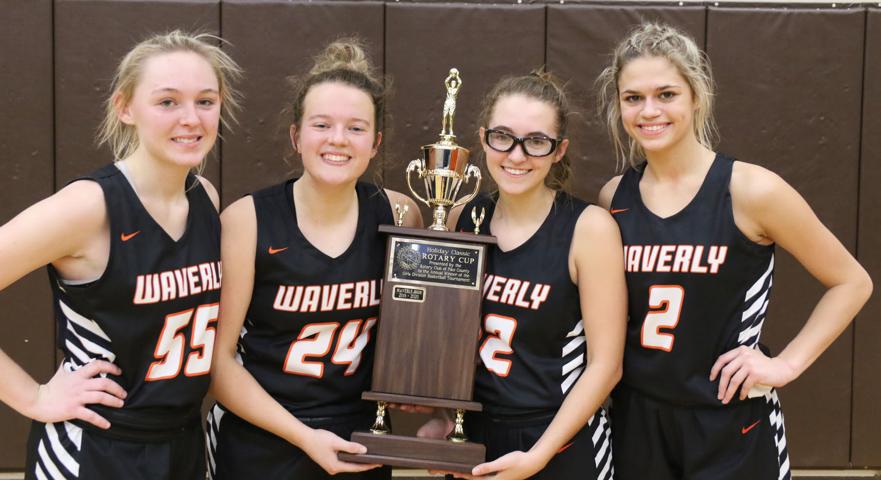 Bonfield is appreciative of his seniors and their efforts, saying, "This group has worked hard. When they come to practice, they want to practice. That's the beginning of it. No one likes practicing, but that's what you have to do to get better and work together. It is amazing what this group has been able to accomplish."
Speaking of Smith, Bonfield said, "We ask Zoiee to score, which she can do. Being a 1,000-point scorer isn't easy. What sets her apart is her vision and her passing. I haven't coached anyone like her. With some guards, you have to tell them where they should have made passes. When you have to tell them, it is usually too late. Zoiee sees it before it happens. During her four years, I've been able to let Zoiee take control and be who she is. I've been able to not worry about the pressure because I know she can handle it."
Waverly's defense and transition game led to a solid shooting night for the Lady Tigers.
Shooting-wise, Waverly connected on 19-of-44 (43.1 percent) from two-point range and 2-of-4 (50 percent) from long distance for a combined total of 21-of-48 for 43.7 percent overall. From the line, the Lady Tigers went 9-of-17.
Piketon hit 14-of-40 (35 percent) from two-point range and 2-of-10 (20 percent) from long distance for a combined total of 16-of-50 for 32 percent.
Waverly had 17 turnovers, while Piketon had 24. The teams matched each other in rebounding.
The Lady Tigers played their final game of 2020 with Zane Trace on Wednesday. They will open 2021 with a road game at Valley on Jan. 4, followed by a home contest versus Portsmouth West on Jan. 7.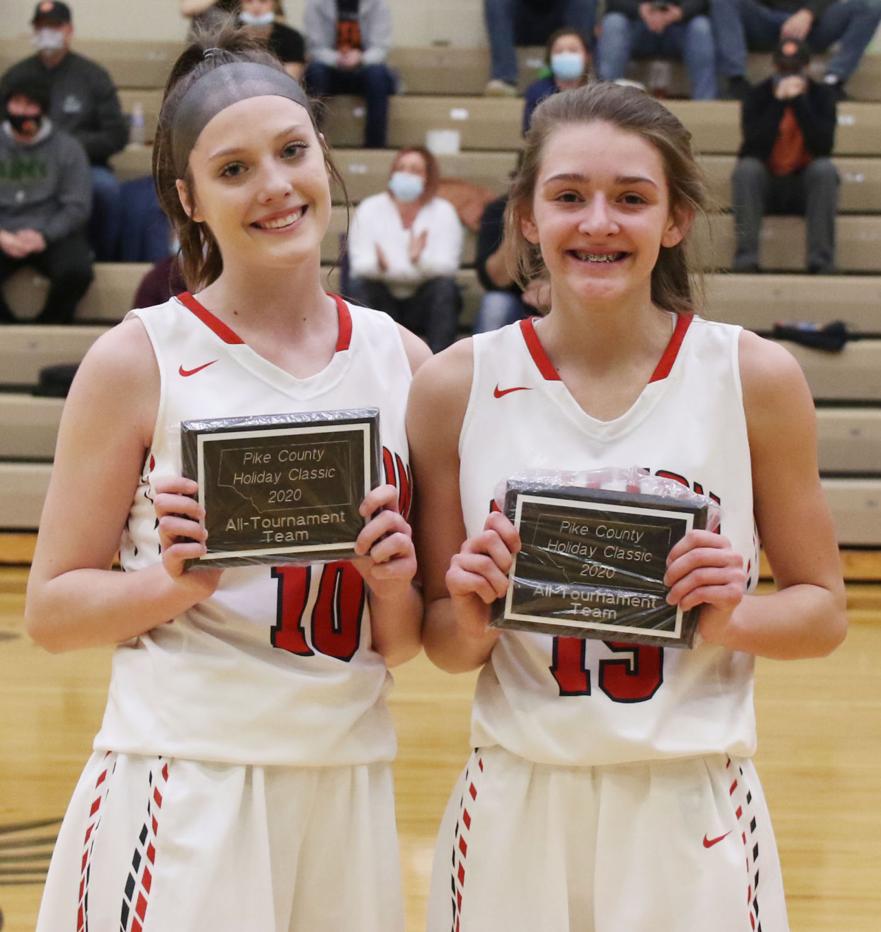 For PHS, Bailey Vulgamore led the Lady Redstreaks with 15 points and added five rebounds. Kennedy Jenkins and Jazz Lamerson each finished with 10 points. Lamerson added several assists, a steal and a block. Vulgamore and Lamerson were Piketon's Holiday Classic All-Tournament Team selections.
Statistically, Hayleigh Risner grabbed seven rebounds and blocked two shots. Natalie Cooper also had five rebounds.
Piketon will be back in action with home games against Paint Valley Tuesday, Westfall Thursday and Rock Hill Saturday.
WAVERLY (53) — Michaela Rhoads 0 1 2-2 5, Zoiee Smith 9 0 1-2 19, Sarah Thompson 3 0 0-2 6, Paige Carter 3 0 3-4 9, Kelli Stewart 1 0 3-5 5, Ava Little 0 1 0-0 3, Carli Knight 3 0 0-2 6, Delaney Tackett 0 0 0-0 0, Morgan Crabtree 0 0 0-0 0, Abbie Marshall 0 0 0-0 0, TOTALS 19 2 9-17 53.
PIKETON (37) — Kennedy Jenkins 5 0 0-0 10, Addison Johnson 0 0 0-0 0, Bailey Vulgamore 4 2 1-2 15, Jazz Lamerson 4 0 2-7 10, Hayleigh Risner 1 0 0-0 2, Ali Taylor 0 0 0-0 0, Natalie Cooper 0 0 0-0 0, TOTALS 14 2 3-9 37.