For the past six years, the Waverly Tigers have been a dominant football force in Division 4 of the Southeast District, compiling an overall record of 51-14 with playoff appearances in all of those years.
On Tuesday when the Ohio High School Athletic Association released the Ohio Prep Sportswriters Association Division 4 and 5 All-Ohio football honorees, the Tigers had six players achieve statewide recognition.
Three Waverly players were tabbed First Team All-Ohio — quarterback Wade Futhey, wide receiver Penn Morrison and linebacker J.T. Barnett — while three others received Honorable Mention recognition — Will Futhey, Brock Adams and Mark Stulley.
It's been quite a run for the Tigers. Waverly finished the regular season with a record of 8-1. The Tigers beat Germantown Valley View for the first time in the postseason in the opening round. Then the Tigers suffered a second-round 49-28 loss to the Division 4 state champion Clinton-Massie Falcons. Clinton-Massie followed the win over the Tigers with playoff victories over Cincinnati Wyoming (42-14), Archbishop McNicholas (28-27), Bloom-Carroll (24-21) and then came from behind to beat Ursuline 29-28 in the Division 4 state championship game by winning on a 2-point conversion.
In the OPSWA Southeast Ohio All-District Division 4 selections, Waverly senior quarterback Wade Futhey secured Offensive Player of the Year, and senior linebacker J.T Barnett was chosen Defensive Player of the Year. Those awards led them to being named First Team All-Ohio in their respective positions.
Looking at the individual honors, senior Wade Futhey (5-11, 185 pounds) held the role of Waverly's backup quarterback for three years behind 2020 Southeast Ohio All-District Division 4 Offensive Player of the Year Haydn' Shanks. During that 2020 season, Shanks also set the Waverly High School single season passing yardage record at 2,574 yards.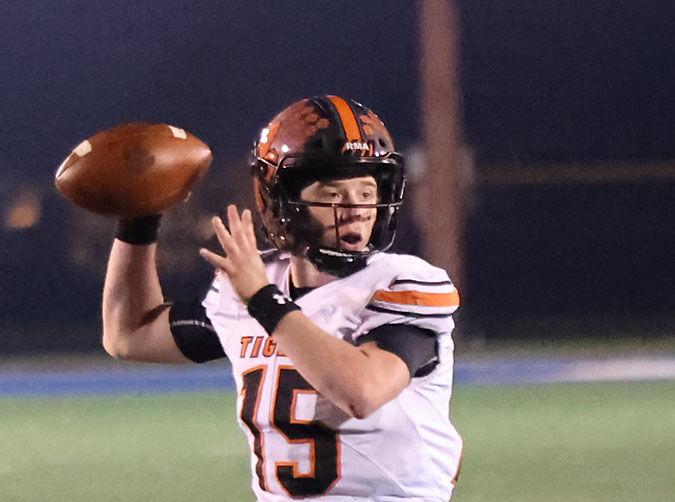 After Shanks graduated, Futhey became the starting quarterback and claimed 2021 Southeast Ohio All-District Division 4 Offensive Player of the Year for his performance, leading to the First Team All-Ohio recognition. That single season passing record set by Shanks one year earlier was broken by Wade Futhey.
In 11 games, Futhey completed 195 passes on 301 attempts for a school-record 2,823 yards with 33 touchdowns. That performance ranks him 15th in the state of Ohio in yardage, according to Max Preps, across all seven Ohio divisions. Futhey also produced two rushing touchdowns.
On defense, J.T. Barnett became the third Tiger in the last six years to secure his OPSWA Southeast Ohio All-District Defensive Player of the Year honor. Barnett was then named First Team All-Ohio for his ability to get into the backfield and cause havoc for opposing offenses.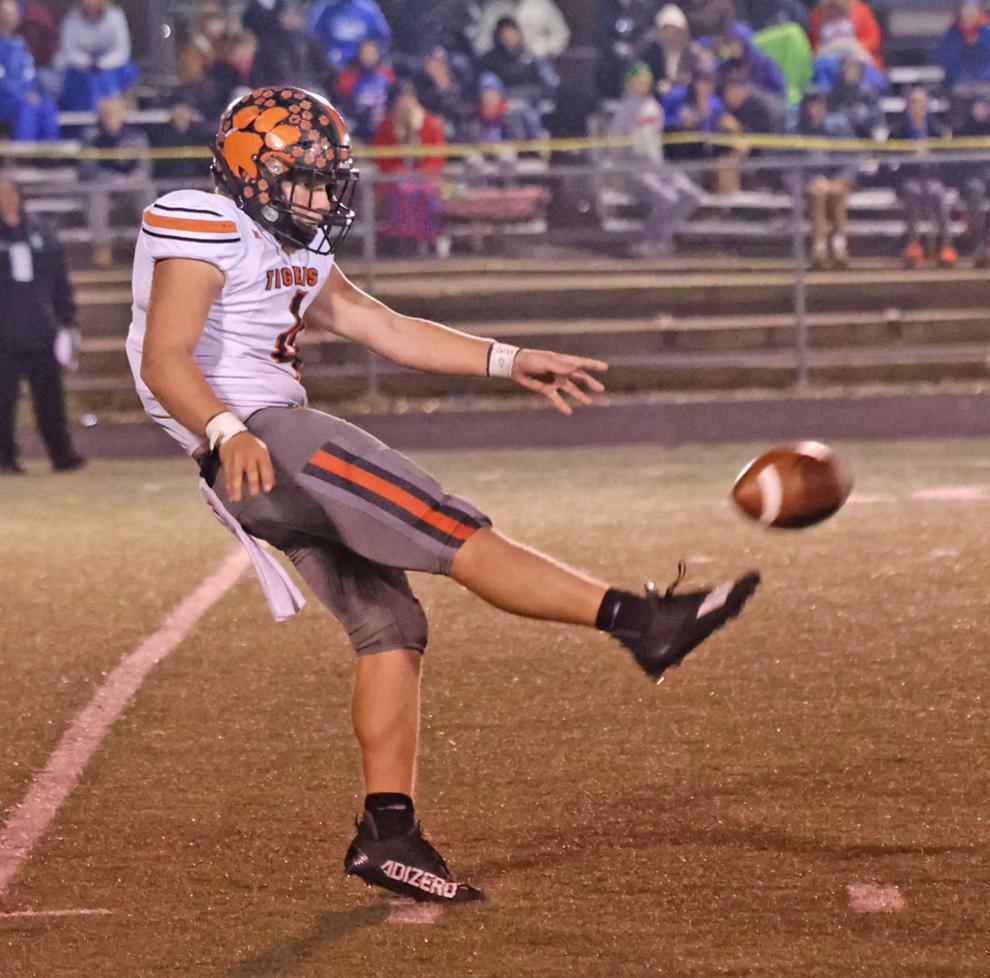 J.T. Barnett, listed at 6-0 and 195 pounds, delivered 81 total tackles to lead the Tigers. He had 7.5 tackles for loss that resulted in a combined 28 yard loss for opponents. Barnett had one sack for a 4-yard loss, forced one fumble and had one fumble recovery for a touchdown in the final regular season game at Oak Hill. Barnett also had a 53-yard kick return touchdown in the win at Unioto.
Barnett also served as Waverly's primary punter this year. Punting for the Tigers, Barnett had 23 punts for a total of 860 yards. That worked out to an average of 37.4 yards per punt with a long of 56 yards, three fair catches and five punts that landed inside the 20-yard line. Playing running back when the Tigers used a "committee" approach due to injuries, he had 12 carries for 25 yards.
Waverly senior Penn Morrison (6-4, 194 pounds) had an all-around statistically strong season that saw him stuff the stat sheet in multiple categories. Morrison's ability to make plays in crucial spots when his team needed them led to Morrison being named First Team All-Purpose in the Southeast District Awards. Morrison's role as wide receiver is where his honors came at the All-Ohio level.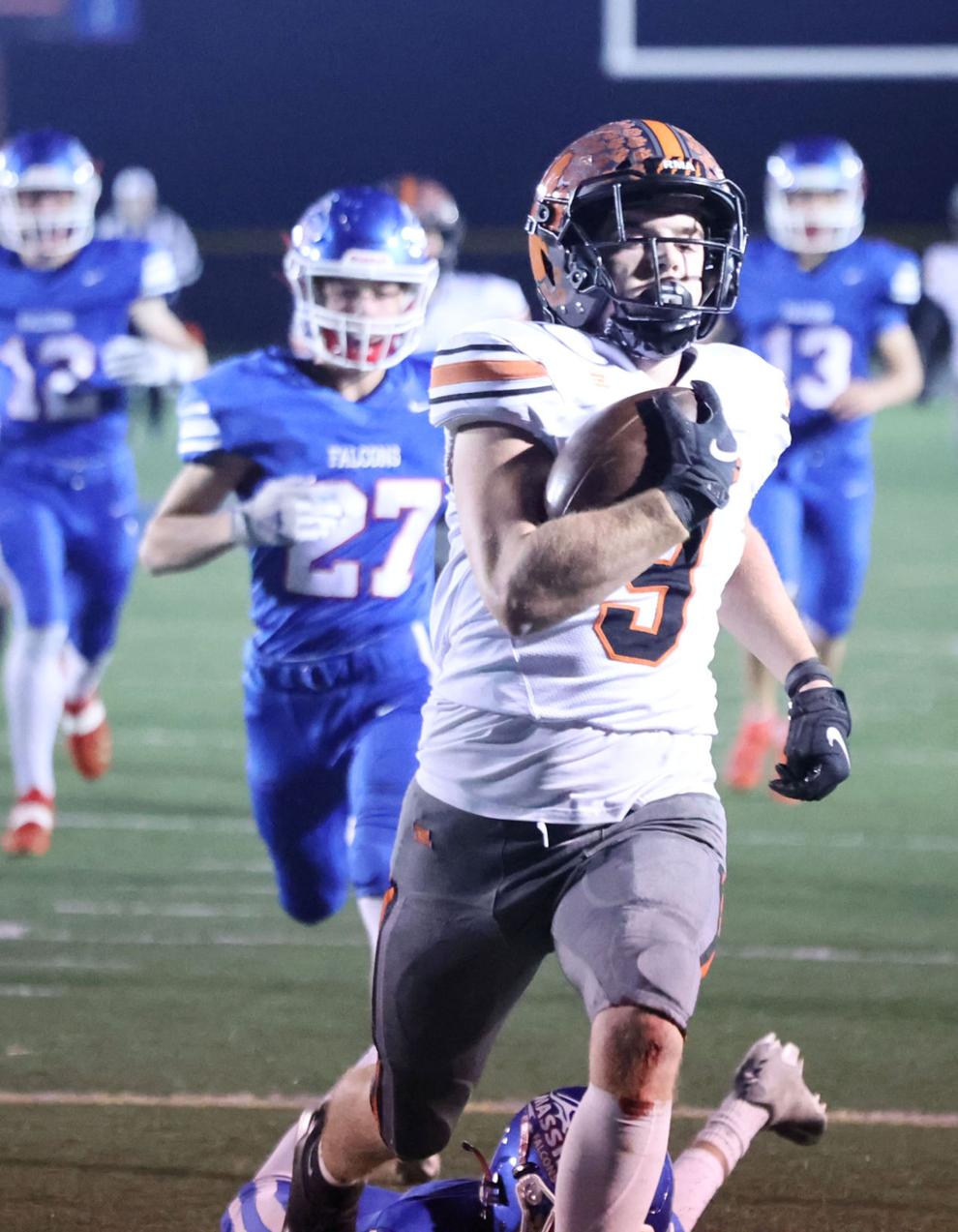 Morrison amassed 1,917 all-purpose yards during the season, coming from 1,136 receiving yards with 15 touchdowns; 13 punt returns totaling 309 yards and one touchdown; 12 kickoff returns totaling 335 yards and one touchdown; and eight interceptions with 105 return yards. In all, Morrison scored 102 points on 17 touchdowns to lead the Tigers in scoring. Besides his eight interceptions on defense as Waverly's free safety, Morrison finished with 41.5 tackles (40 solo, 3 assists) and one fumble recovery.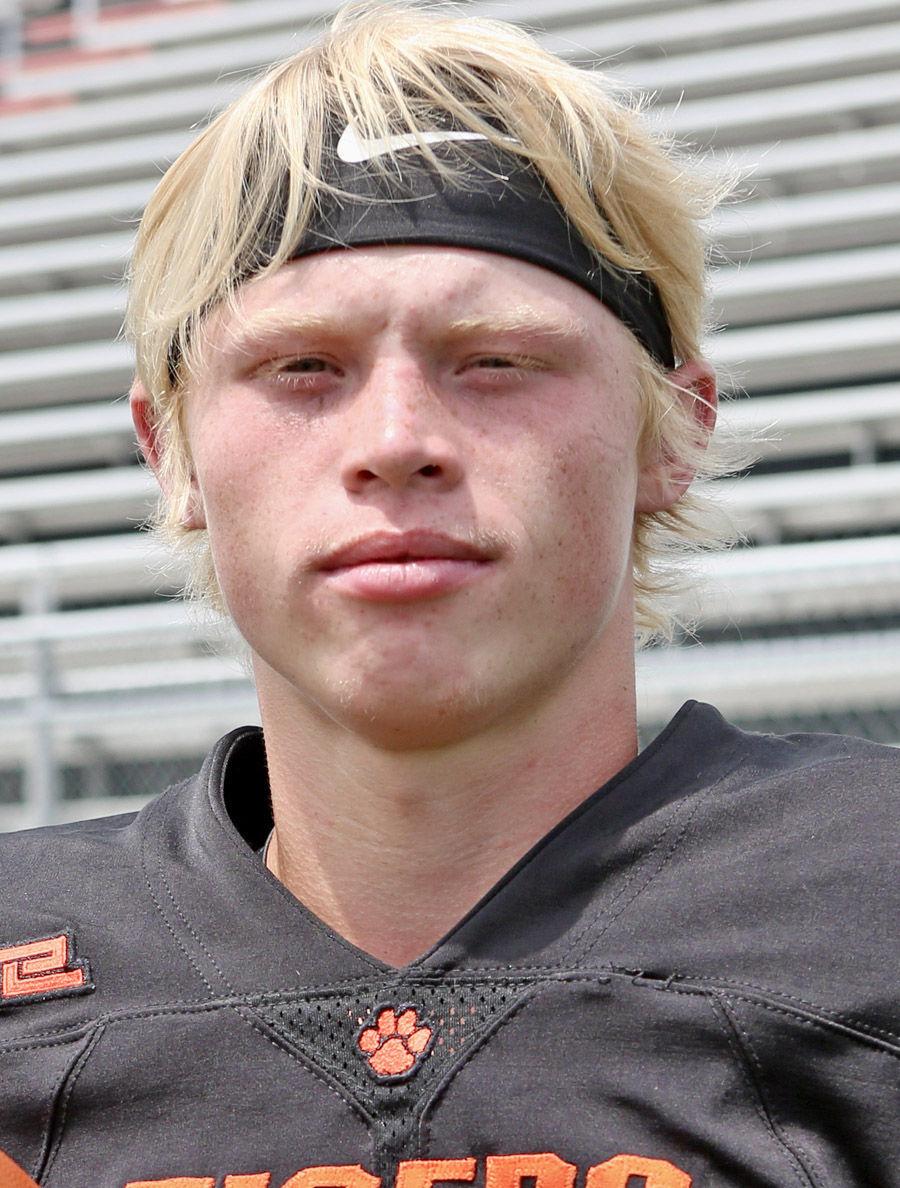 Right behind Morrison statistically on offense was senior Mark Stulley (5-9, 155 pounds), who totaled 1,127 all-purpose yards. Those yards came from 18 rushes for 162 yards and one touchdown; 57 receptions for 733 yards and six touchdowns; three punt returns for 52 yards; and 11 kick returns for 182 yards.
Stulley's OPSWA Division 4 First Team honors came as defensive back, which was also where he received Honorable Mention All-Ohio. He was fourth on the team in tackles at 39.5 (34 solo tackles, 11 assists). Stulley delivered 6.5 tackles for a combined loss of 21 yards and one sack for an 8-yard loss. Stulley also secured a fumble recovery and sprinted 30 yards for a defensive touchdown. He had three pass deflections and one interception during the season. In all, Stulley scored eight touchdowns for 50 points.
Waverly senior Will Futhey (6-5, 205 pounds) secured First Team honors for the third straight season as a wide receiver. Will Futhey is the twin brother of Wade Futhey.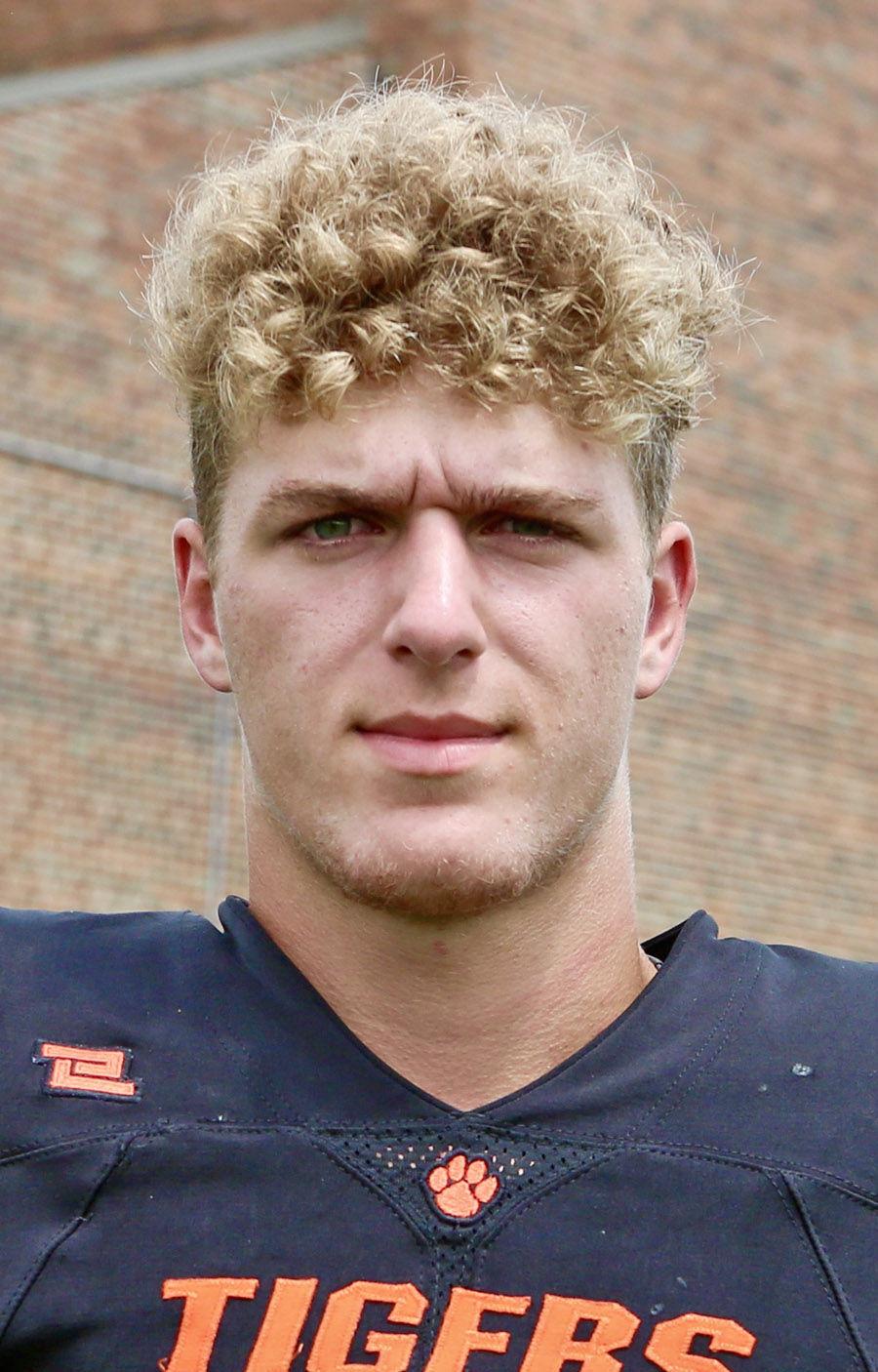 Will Futhey, who was Second Team All-Ohio as a receiver following his junior year and Third Team All-Ohio as a sophomore, commanded the attention of Waverly's opponents, drawing double and triple teams throughout the season. Despite the attention he attracted, Will Futhey finished with 52 receptions for 711 yards and 11 touchdowns. Those 11 touchdowns resulted in 66 points, which placed him third in scoring on the team. He ends his senior season as Honorable Mention All-Ohio as a wide receiver.
At defensive end, Futhey recorded 42.5 tackles (39 solo, 7 assists), 10.5 tackles for a combined loss of 42 yards, two sacks for a combined 12 yard loss, one fumble recovery with a 12-yard return, and four pass deflections.
In order to have all of that success on offense, the Tigers needed to replace most of their offensive line this season and have that new line block effectively. The returning starter of that group, junior Brock Adams (6-2, 305 pounds), helped lead the line to block for the offense that finished with 1,257 rush yards and 19 touchdowns along with 2,879 passing yards and 34 touchdowns.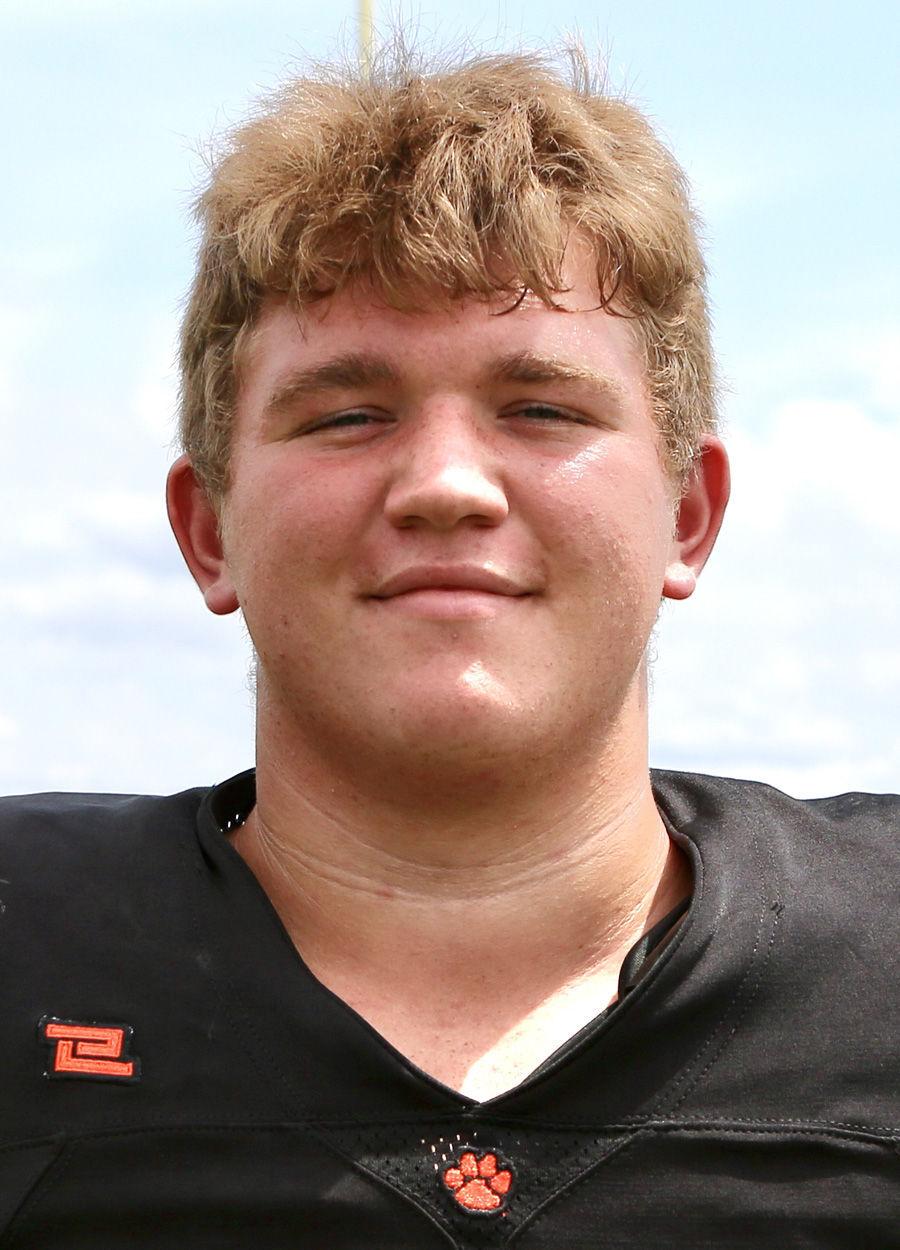 Adams, a three-year starter, was Honorable Mention All-Ohio and will be the only player returning to the field next year out of the six Tiger honorees named on the statewide list.