The seed that yielded The Pike County News Watchman was planted in the early 1800s, perhaps as early as the founding of Jefferson (present day Piketon, which served as the first Pike County government seat) in 1814, though this very early portion of Pike County history is not altogether clear. The earliest publication knows to have existed is the Waverly Democrat, which was first printed in 1832 and served, as its name implies, as a staple for the early Democratic settlers in the county.
In 1861 name of the publication changed from the Waverly Democrat to the somewhat conventional Waverly News. The name would remain until the early 1900s when yet another change, this time reflecting the opinion of another political party, took place. The Republican Herald served as the county's news source. In this incarnation, the paper would keep people abreast of news concerning births, deaths, and perhaps most importantly, the happening of soldiers fighting overseas in two world wars.
In 1954, the publication adopted the name of the Waverly Watchman, though Republican Herald was still printed on the header of the front page. Finally, around the year 1960, a variation of the present name was set in place; the Waverly Watchman. This paper, like the current Pike County News Watchman, was published twice weekly and focused on the local news and personal interest stories of citizens of that time.
The traditions of the first Waverly newspapers are still alive and well in today's editions of The Pike County News Watchman, along with some more amenities.
Our publication will continue to grow and, with that growth, bring the readers of Pike County the news that matters to them.
We are an active member of the Pike County Chamber of Commerce and we participate in community events.
---

Hilary Miller
Advertising Director
Hilary is the Advertising Director for The Pike County News Watchman. She previously served as the Advertising Directory and Sales Supervisor for The Athens News. Before being promoted Hilary worked as an Account Executive for the Jackson County Times Journal for six years.  She received her bachelor's degree at Morehead State University. She attends Elevate Ministries and is involved in the Children's Ministry. She is also the owner of Created by Hilary Photography. She enjoys helping people create memories that they can't get back through pictures. She loves cheering on the Ohio State Buckeyes in football and the University of Kentucky in basketball. She and her husband Nate live in Jackson County.
Email: hmiller@newswatchman.com
Phone: 740-947-2149, Ext 300421
---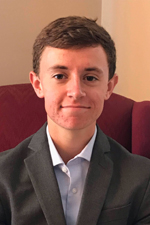 Patrick Keck
Editor
Patrick is the editor of the News Watchman. A Miami University graduate, he previously reported on local government affairs for the Portsmouth Daily Times. You can find Patrick enjoying the great outdoors outside of work as he is currently training for the Columbus Marathon. Additionally, he spends his weekends cheering on his favorite NFL team and eventual Super Bowl Champions- The Buffalo Bills.
Email: pkeck@newswatchman.com
Phone: 740-947-2149, Ext 300431
---