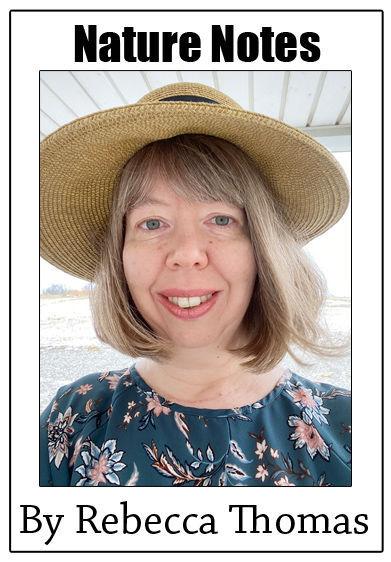 The Midwest Native Plant Society chose September 10-12, 2021 to host a Shawnee Nature Safari. This event took place at Shawnee State Park in West Portsmouth, Ohio. Kathy McDonald, the Programs and Organizational Chair, asked me and my son to help with this event. Kim Banks, another organizer, told us that we would be manning the moth sheets on Friday night. We had a great time meeting people and finding out where they were from. We identified moths and showed visitors the caterpillars that those moths used to be. A few attendees had caterpillar pictures, and I was able to identify them. As the night wore on, I asked where they had already been. Other nighttime activities included caterpillar hikes, learning about insect song, or looking through telescopes to see astronomical wonders in the sky.
A non-profit volunteer-run organization, the Midwest Native Plant Society exists to connect people and nature. Another goal is to encourage conservation in Ohio. They got their start in 2009 at the Hope Hotel in Dayton and have expanded and continued over the years. According to their website, "Our mission is to advocate the vital role of native plants in the landscape to preserve ecological integrity and connect people with nature." They plan conferences and workshops in various locations in the state. The Bergamo Center in Dayton and Scioto County's Shawnee State Park are regular venues. Proceeds go to numerous conservation establishments decided on by the board.
Friday night Jim McCormac spoke. Jim was a botanist with the ODNR for 31 years. He now writes about nature, photographs nature, and is a frequent field guide. His topic - Flora, Moths, and Birds: A Tangled Ecological Web - gave us a gallery of colorful caterpillar images. It is surprising to the novices how many caterpillars there are and how different they can look! Songbirds depend on caterpillars for their very existence. They eat a substantial amount of Lepidopteran larvae and feed them to their young. In Ohio, we have about 1,850 native plant species. All of those probably host caterpillars. Most eat woody plants. They have relationships with the chemicals found in their host plants. Some of these are toxic and serve to protect them from predators.
Saturday our day hike took us to Rocky Hollow near Roosevelt Lake in the park. Dr. Drew Feight, an American History professor at Shawnee State University, gave us a basic history on the development of the park and Lookout Trail before we set off on foot. Dr. Lucy Braun from Cincinnati played a pivotal role in making others aware of this "mixed mesophytic forest". She spent her life educating people and observing southern Ohio and the hills of Kentucky with her sister, Annette. Even at age 81, Lucy went with officials from the National Park Service to impress upon them the importance of saving this forest. Rocky Hollow became the key to preserving Shawnee State Forest and the Nature Conservancy's Edge of Appalachia. Thanks to the hard work of Miss Braun and others, we can still freely enjoy these areas today.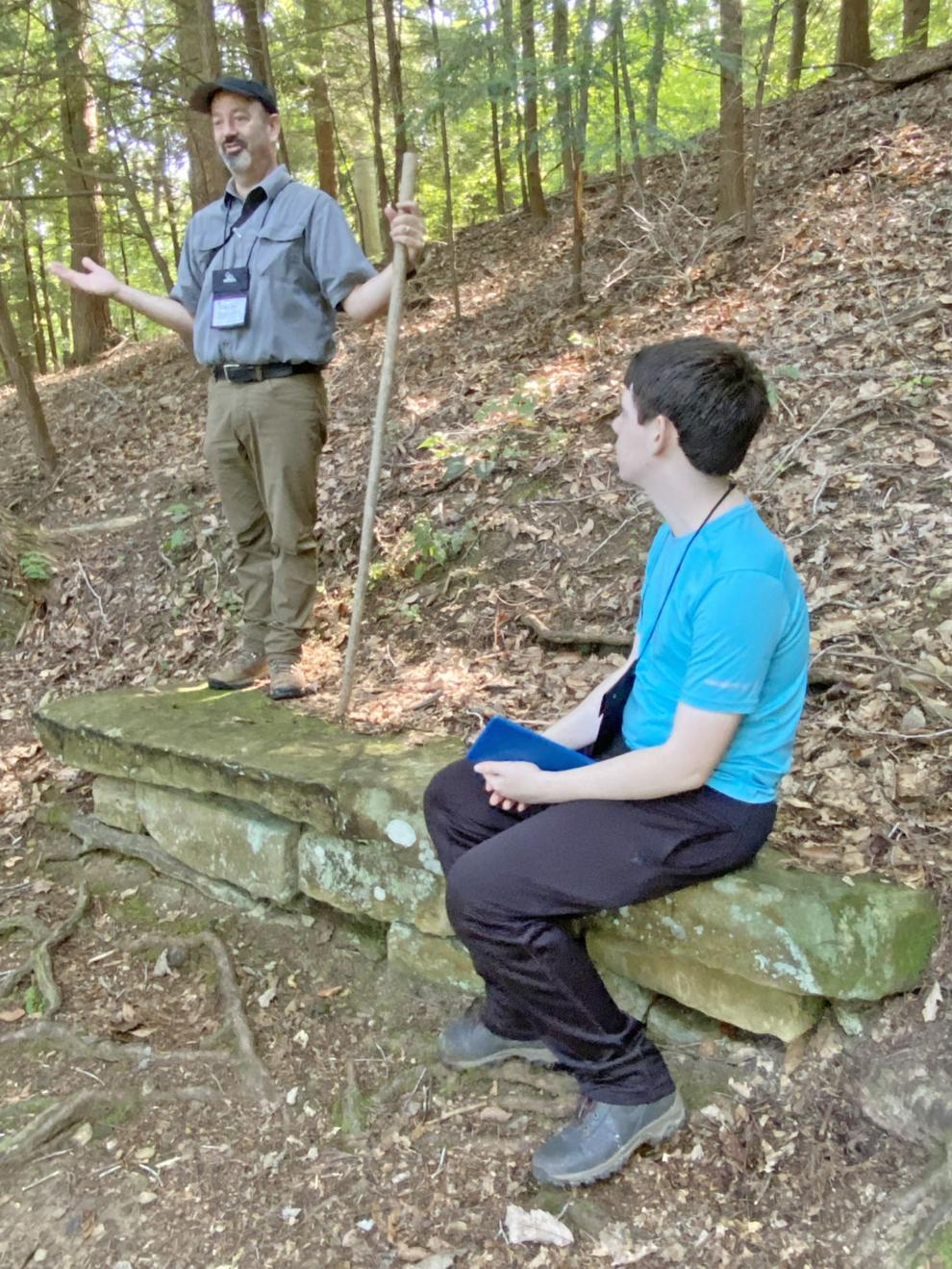 Shawnee State Park naturalist Jenny Richards was our other guide for this three-mile, somewhat rugged hike. She was attentive as always to everyone and constantly taught us about the plants and animals spotted along the trail. I spied a bunch of red and yellow flowers that I had never seen before. As soon as Jenny saw them, she got so excited. Pinesap! It is a perennial wildflower that is not often seen. Found in mature, moist, shaded, temperate forests, these are mycotrophic plants. What does that mean? Simply this, these plants have no chlorophyll and cannot make their own food. They are fungus feeders that get their food (carbon) by tapping into fungus attached to the roots of a host plant.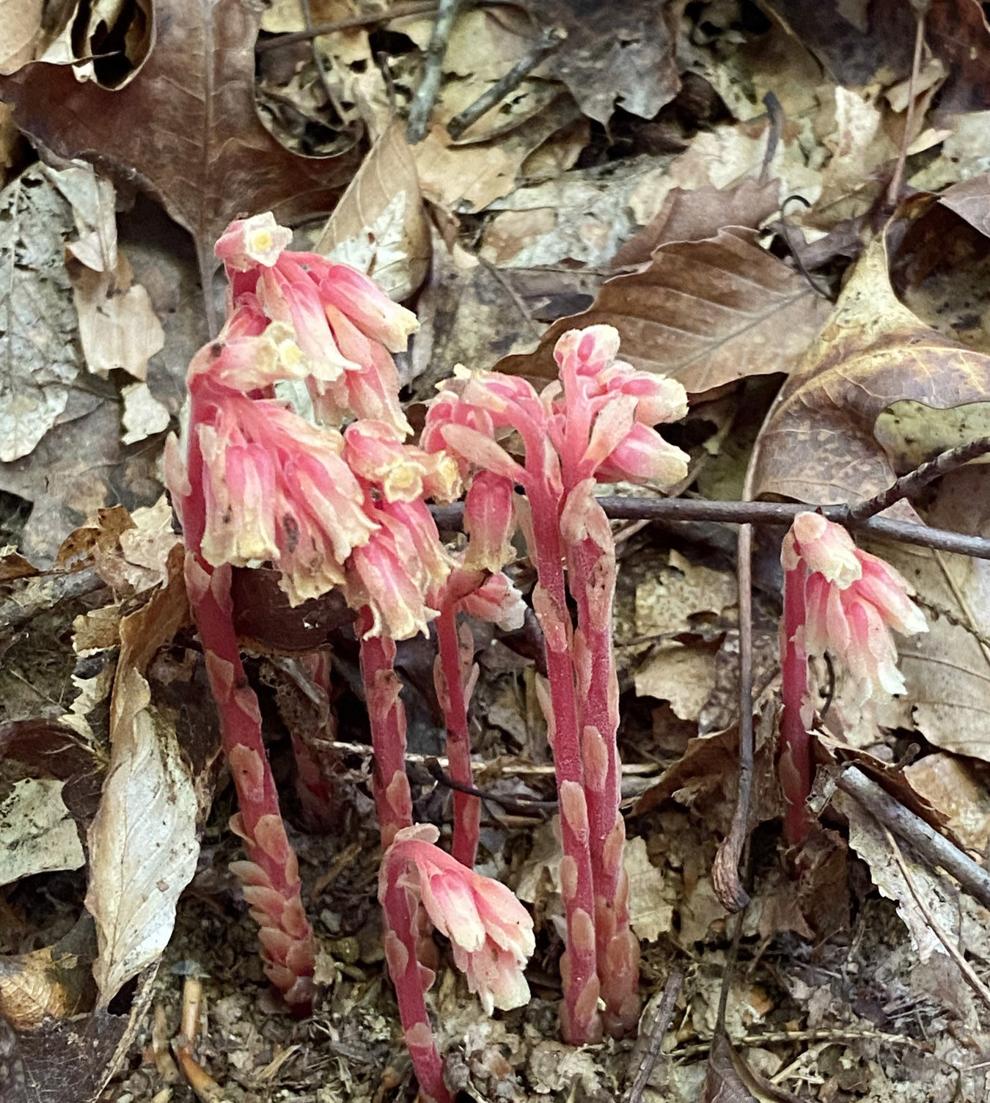 Later, Jenny told us to look for a tree with a face on it. As our eyes hunted here and there, a tall, old Northern Red Oak looked down on us with its eye-like burls and nose. Jenny measured this tree with the help of a tape measure and another hiker. Then she nestled in between the trees' massive roots to tell us more reasons why she is so fond of this magnificent specimen. Our forest literacy increased as we continued down this path taking only digital souvenirs and memories with us.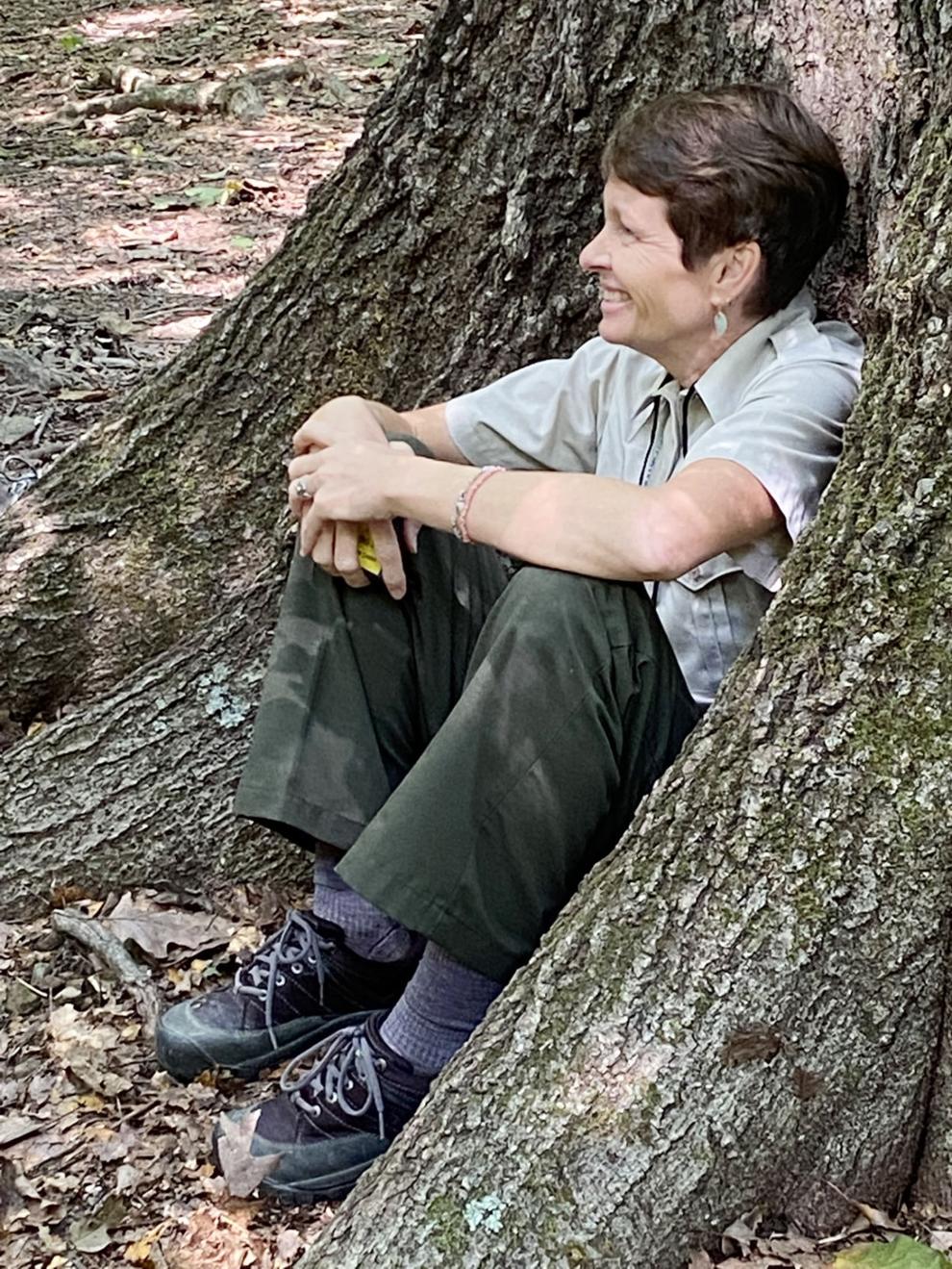 Saturday evening, Jack Stenger, a Conservation Biologist with the Great Parks of Hamilton County, was our speaker. Promoting Native Plants and Biodiverse Landscapes: Why Vegetation Structure Matters was his topic of choice. A Native Plants Movement is upon us. Speakers, authors, and educators have been raising public consciousness. Doug Tallamy's 2007 book, Bringing Nature Home, shone the spotlight on the message that habitat loss affects biodiversity. The question remains on how to best handle invasive species. Every solution has not done away with their existence or always been the right one. Jack explained that structure is important. Canopy, midstory, shrub, ground, and cavity all have their place. Animals need structural complexity. Habitat variety is good for them. Plant diversity is as well. In closing, Jack summed up his message with the following thoughts. Use native plants. Strive for vertical structure. Plant dense. Maintain year-round cover. Be bold! See what happens.
Saturday night my son and I decided to join John Howard for a caterpillar hike. Our group drove down to the Nature Center and parked. Then we started exploring with our UV flashlights. Some caterpillars glow when these lights are on them. That makes them a lot easier to find. Even a regular flashlight is handy for finding arthropods at night. At first, we saw several Slug Moth and Tiger Moth caterpillars. Slugs do not look like your stereotypical caterpillars. Instead they look bizarre. My neighbors' son once showed me a picture of Saddleback Slug caterpillars and had no idea what they were. Tiger moths are hairy all over. The Isabella Tiger Moth or Woolly Bear is a well-known example.
In time, a young Columbus Metroparks naturalist, a Saturday day hike butterfly guide who also happens to be a Chemistry professor, and his Michigan friend (another butterfly aficionado) splintered off from the main group to seek out more caterpillars. I joined them, and we left the tall grass for some taller trees. It is a good thing that we ventured off. We found caterpillars galore! A Stinging Rose Caterpillar, Variable Oakleaf Caterpillar, Unicorn Caterpillar, Luna Moth Caterpillar, Sycamore Tussock Moth Caterpillar, Io Moth Caterpillar, and the find of the night according to our main guide, the Spun Glass Slug, awaited our discovery.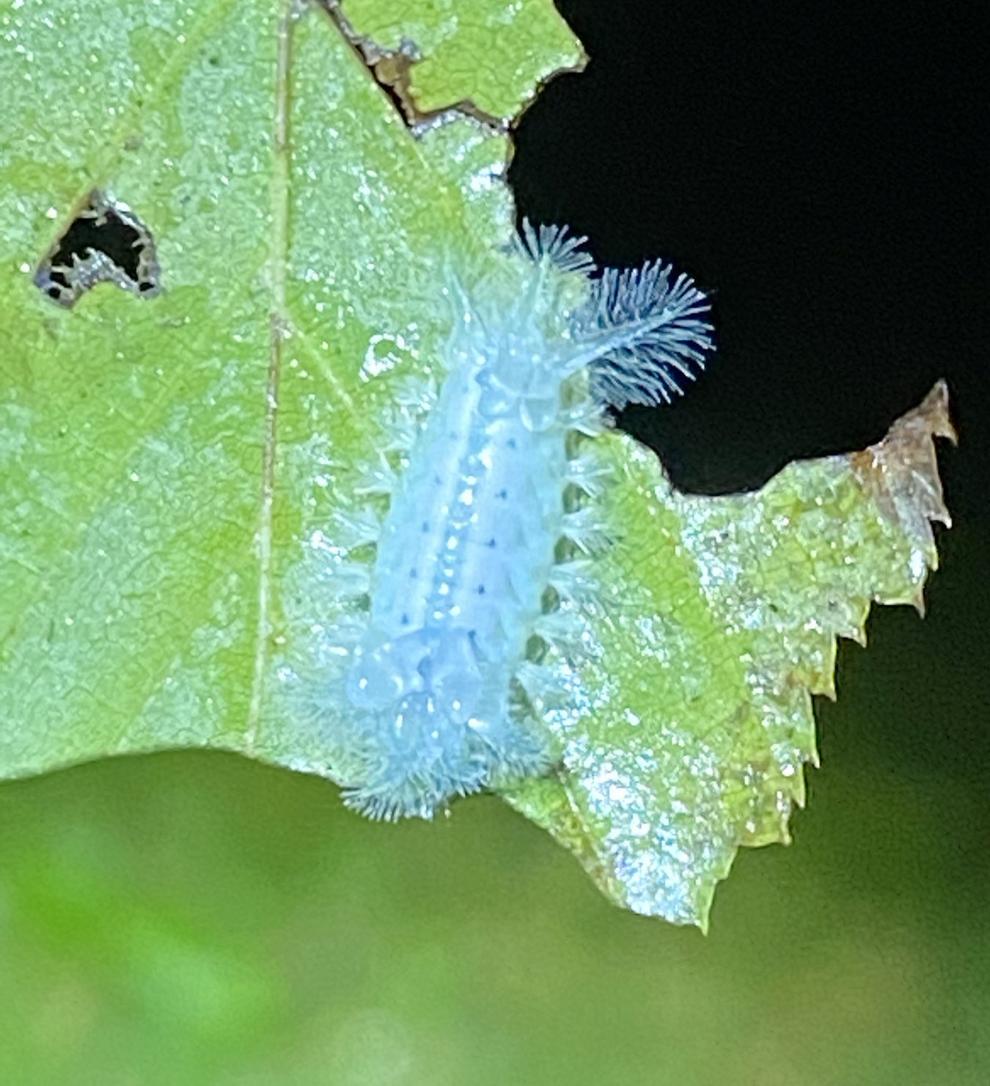 At 11:30 p.m., our hike ended, and we turned in for the night. After a splendid weekend spent learning, teaching, and exploring, it was time to leave. If you missed this one, never fear. The Midwest Native Plant Society is already planning a Spring Wildflower Safari again at Shawnee State Park on May 20-22, 2022. Their Homegrown Habitats Yard Tour will be June 18, 2022. Their summer conference will go back to Bergamot in Dayton on July 22-24, 2022. Feel free to check out their website at midwestnativeplantsociety.org or their Facebook page to find more information.