Nature happens at night. Most people miss this flip side of events. When the time is right, certain actions occur. In late winter every year, many amphibians migrate to water to mate and breed. Conditions need to be right. These animals wait for 40 or 50 degree temperatures. Rain and a lack of daylight are musts. This moving spectacle only occurs for a night or two. Then it is over for the year.
A parks director once inquired if I had ever witnessed this phenomenon. Instantly intrigued, I asked for more details. Next year, with permission, my children and I traveled next door to our neighbors' pond. Prepared, we had umbrellas, flashlights, and camera. Our adjoining backyard is a rocky, wooded hillside. This is the perfect place for mole salamanders to live most of the year. Sure enough, we saw them coming from the woods to the pond. It was so exciting that we went back the next year.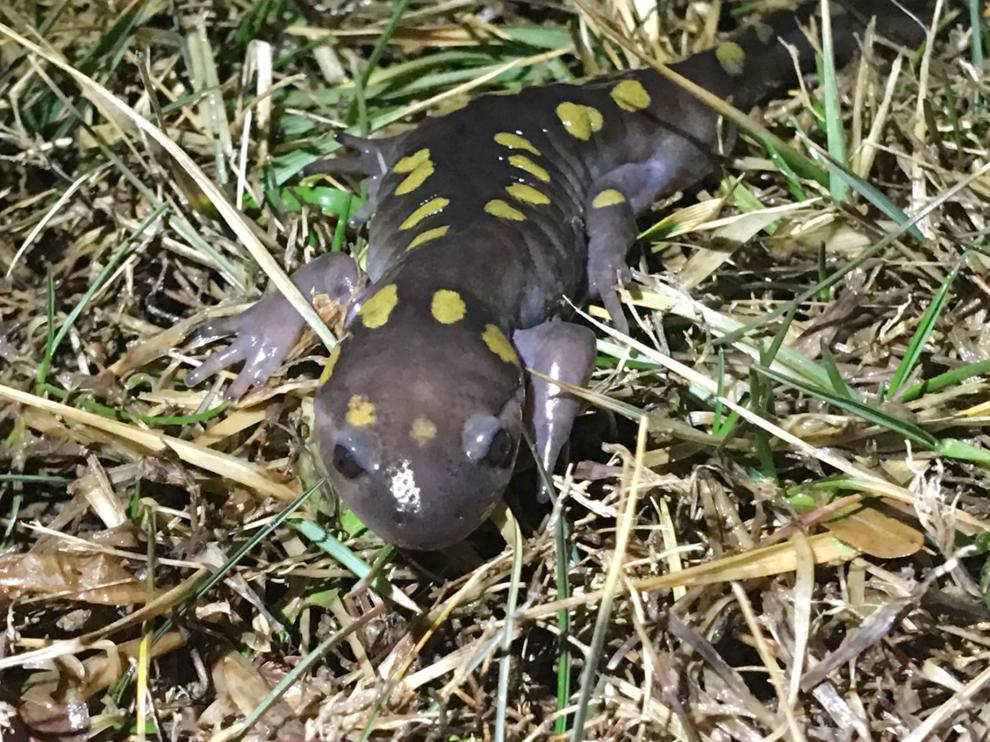 That time another neighbor noticed our flashlights and invited us to their pond. We saw even more than the year before. 86 Spotted Salamanders, one Jefferson Salamander, and a Red Eft appeared that night. Salamanders were all over. The males attach spermatophores to a stick or plant matter. One pond, more shallow, allowed us to make that discovery. Inspired and always learning, my husband and I later flipped logs and rocks in our woods. Our daytime search produced a Ravine Salamander. Last year we tried again to catch the nighttime migration but gave up. Wind, coldness, and the lack of seeing anything exciting discouraged us. This year it was time to try again.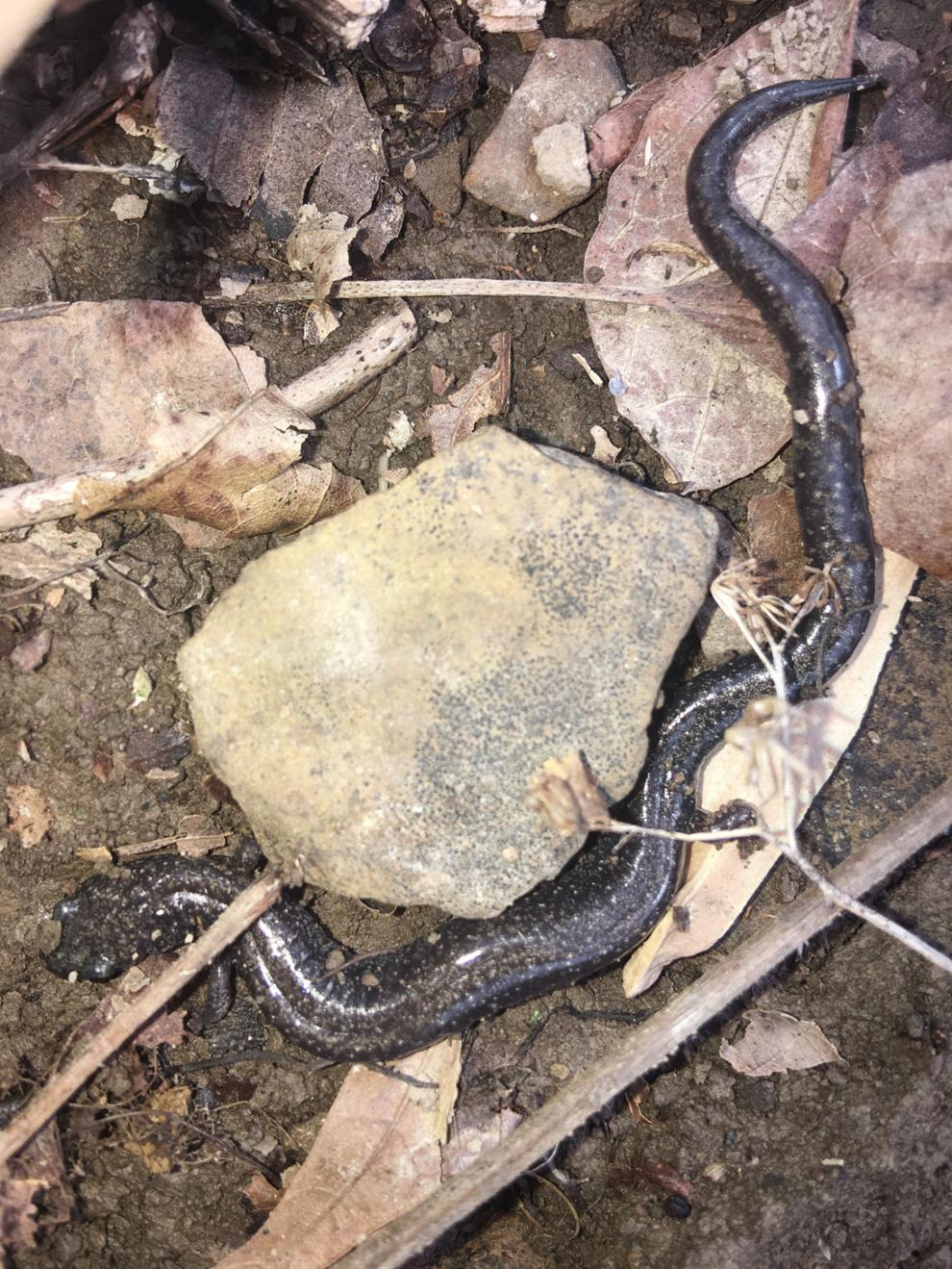 Having local friends with similar interests, we were joining two. One knew about hotspots, and another had not been on this adventure before. We waited for the call. All week I closely watched the changing weather forecast. We talked to others in the know. The phone call came, and off we went. This time we rode around back roads in Pike County. Knowing where to find the right habitat makes a big difference. Locating these seldom seen creatures takes planning.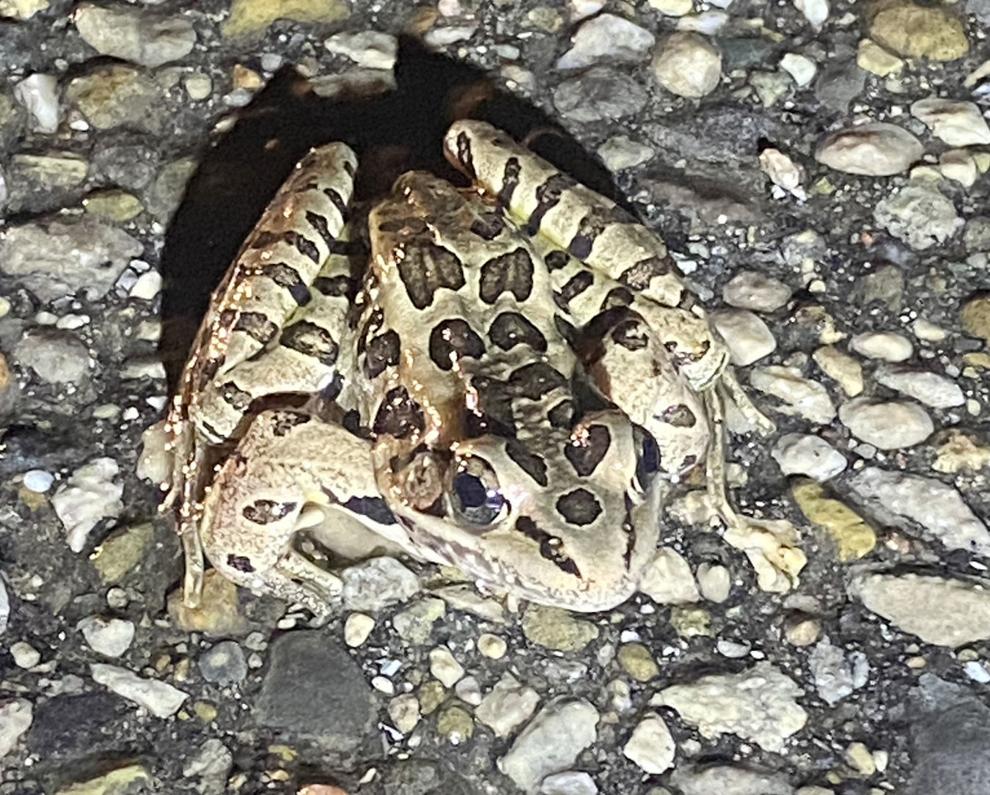 That epic night produced sallies and more. Frogs, a crayfish, and a moth caterpillar crossed the road. Most of us had never seen our target species, Spring Peepers. We found them. Males call at this time of year. I heard them for the first time this year on the night before our outing. We found a Pickerel Frog and Two-lined Salamanders, more new species for the majority. These animals desire a stream, river, vernal pool, pond, or rocky wooded hillsides. A blend of these habitats will also do. Most spend the winter underground or below rocks, logs, or leaf litter. They need a moist home.
Ohio law protects our native amphibians. Capturing or collecting them requires a permit. You should only touch them, if at all, with wet, clean hands or briefly with clean, dry ones. Gloves can be used. These animals are delicate. If we want to continue to have them here, then we need to respect them. Herpetology is the study of amphibians and reptiles. Herping means looking for amphibians and reptiles. It can be a fun hobby and a great way to learn more about the natural world.