This week I'll feature an unusual place in Kentucky. I stopped in this town several years ago because I had read about a town that had a rail line running down the center of the town.
LaGrange is a few miles from Louisville, Kentucky, on the former L & N Railroad (Louisville & Nashville). When I grew up in Warren County, Ohio, the town of Morrow also had a main line railroad down the center of town with streets on each side and business buildings facing the railroad tracks. I loved going to the barbershop as I watched the trains traveling by. Also, if I waited on the other side for the movie theater to open, I could watch trains pulled by steam engines. This was in the 1940s time period. We lived in that area from 1946 through 1949.
My granddaughter learned of this town which had a Christmas Festival and she and her husband stayed overnight there and enjoyed the sights and sounds. The railroad depot has been restored to its former glory and is owned by the city. Inside are many displays of railroad related items. Downstairs are model railroad displays and working HO trains. On average, 30 CSX trains pass through town every day.
Outside are an L & N caboose and a dining car which is well dressed as in old days. This is rented out for personal uses and is a 1929 built model. The speed limit for trains in town is 10 miles per hour. There is also a viewing tower to observe and photograph trains.
The tracks in Morrow have been removed and now there is a bike path to Xenia when the Conrail Corporation formed. Many rail lines were abandoned and removed, especially the former PRR and NYC lines in Ohio.
So if you are traveling toward Louisville, stop off at LaGrange just off the Interstate. This makes a nice break stop on your travels. There are many quaint shops to visit in town.
I couldn't find a photo of the tracks in town, so I drew a rough sketch. A former Pike Countain, retired L & N Railroad engineer, Tim Holsinger, has traveled here.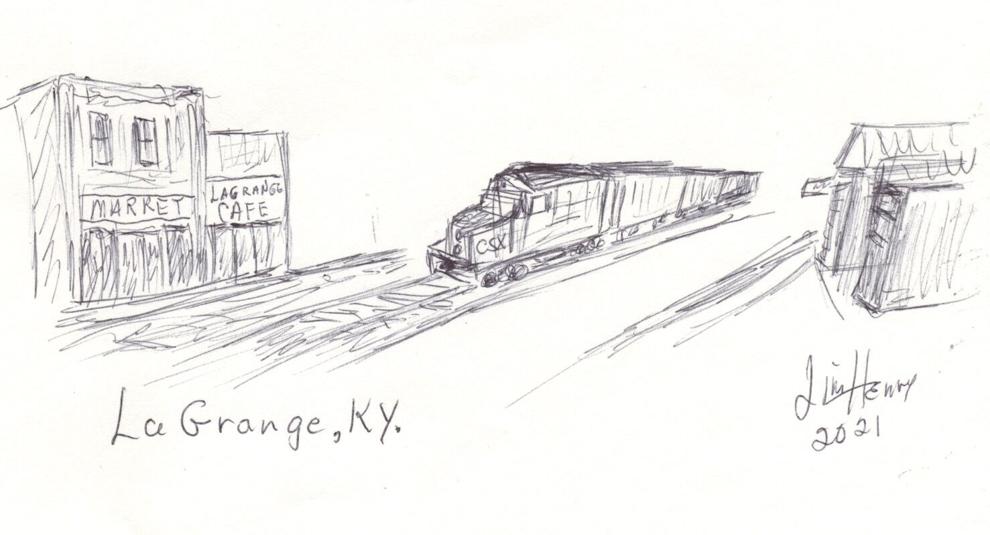 Here are some more interesting facts I've read:
• A Great Dane named Zeus is recorded to be the tallest dog in 2011 at 44 inches.
• In 1955, Fall-Out Shelters became popular as a safety net in case of nuclear war. My dad helped build some in southern Ohio.
• Dairy Queen opened its 2,000th store in 1955.
• A new wireless remote makes it easy to control a TV set at home this year (1955).
And a Happy New Year to you all!
I'm doing well after my stroke thanks to the Adena Rehab in Waverly and your prayers.