This week I will re-run an article from April 7, 1977 (included in italics). Then I will include some additional information and updates.
Here is the article from April 7, 1977 ...
This week's sketch is of a water powered mill located at the mouth of Ganderhook Creek on Rt. 104. This building stood here on the Ohio and Erie canal about five miles south of Jasper until 1907 when it was dismantled.
In 1864, Robert S. Wynn contracted with Albert Flowers and son, Nathaniel, to erect this mill at canal lock 47, known as "28 mile lock" because it was 18 miles north of Portsmouth on the canal. The Flowers family were master millwrights and had built mills in West Virginia and one on Brush Creek in Ohio.
This was a sturdy three story frame with large stone that weighed about one ton, which was quarried nearby, in the 12 foot high foundation. This mill was of the type which had the wheel located under the building.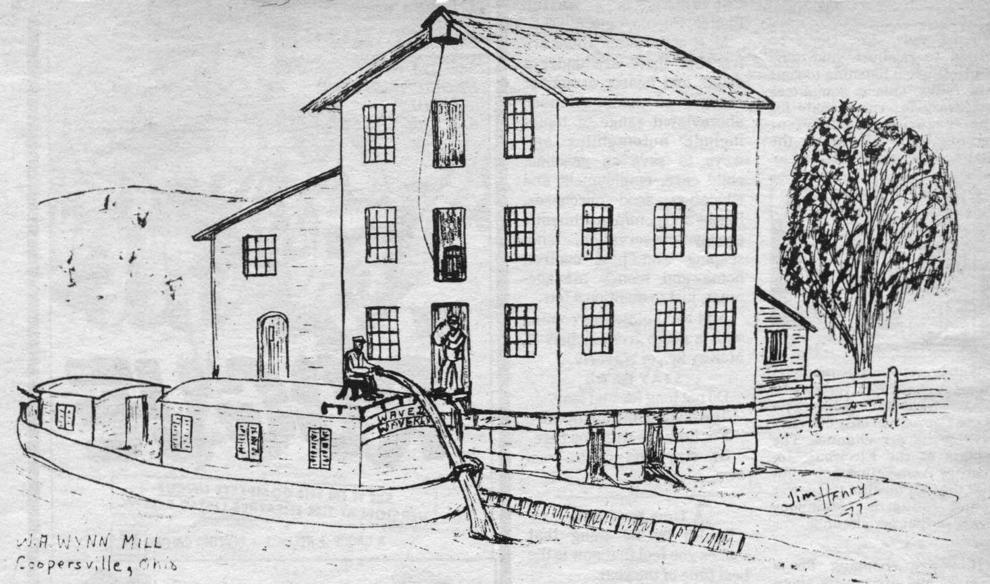 In the sketch, note the openings for the water to run out in the foundation. Taking three years to build, it was completed after the war when Nat Flowers returned after fighting for the South. He constructed the wooden gearing and other wooden parts of the machinery.
When opened in 1867, Robert S. Wynn and James McCanley were the owners. By 1873, the mill had two runs of stone for wheat, one run for corn, a corn sheller and a carding machine. Then W.A. Wynn, the son of Robert, became a partner. In 1883 McCanley left and in 1886 W.A. Wynn sold out.
From 1890 to 1893 Nat Flowers became the miller, as well as being the Justice of the Peace in Camp Creek Township from 1878 to 1909.
In 1894 Edwin Brown, the former miller of Chillicothe, took over the mill and closed it in 1907 moving the machinery to W. Water Street, in Chillicothe.
This then was set up in the old Union Shoe Factory and became known as "Miss Ohio" flour when operated by Robert E. Clark. Later Walter E. Smith operated the mill until it closed in 1973.
The mill machinery was heard in action at the old flour mill that sat at the corner of West Water Street and Western Avenue in Chillicothe. That closed a few years ago but the building still stands. There is a gas station beside it and I heard New System Bakery is in part of this place now facing Western Ave.
The Nat Flowers mentioned here was a relative of the late John Grabb who retired as a mail carrier in Chillicothe. He was also author of many local history books and who helped me several times with Pike's Past. He told me he traveled by train (N & W) from Chillicothe to Wakefield and then was met by some in a wagon who traveled on Ferry Road across the Scioto to the Flowers home on state Route 104 near Ganderhook Road.
My health is declining a lot this year, so I'm thinking of retiring Pike's Past. I think Tyrone Hemry's new column would be a great replacement for my article.