This week I'll feature some various items.
Recently a former News Watchman reporter passed away. James Murray was a graduate of Waverly High School and very active in the Republican politics. He had written a book involving a period of the American Civil War and was a history fan. His sister, Linda, has married the late Sam Pearson a…
In the future I'll feature a five-part story about the old Toll Gate building on West Second St. complied by Blaine Beekman. This building was on the old Scioto Trail from Portsmouth to the capital city of Columbus. Now U.S. 23 follows mostly the same route. This building is now being restored.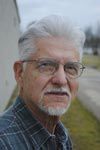 By Jim Henry
Pike's Past is a column that runs in the News Watchman every Wednesday. He has been writing for the publication since September of 1976 and is renowned for his knowledge of Pike County history. Henry frequently speaks at gatherings throughout the region to speak about history and present slide shows from his extensive collection of historical photographs.